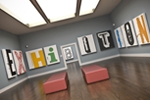 "The Shock of the News" exhibit shows the influence of the news on society and the impact that it had within the Art Industry. The exhibition will examine this trend as it quickly grew into a phenomenon, encompassing both Europe and America, and will trace its development from 1909 to 2009.
http://www.nga.gov/exhibitions/shockinfo.shtm
The exhibition will be on view in the National Gallery's East Building, Mezzanine.
Book Your Room Now!